Our hybrid greenhouses are commercial-strength structures custom-built to handle Michigan's unique climate variables. Allowing us to utilize natural sunlight as the primary source of energy, combined with technology to control the environment as needed in order to maintain perpetual cultivation year-round for our sustainable cannabis cultivation. Constructed on top of a concrete slab and built from roll-formed steel components, the facility is both durable and energy efficient.
Upon full completion our overall footprint will measure 65,000 square feet, built in three phases.
Each phase will consist of 4 greenhouse structures individually measuring 3,600 square feet accompanied by a 7,500 square foot headhouse. At full capacity, our farm will include a total of 12 hybrid greenhouses along with 2 headhouses to support the operations of multiple sustainable cannabis cultivations and processing licenses.
Join us for our next Live Stream inside the GREENHOUSE!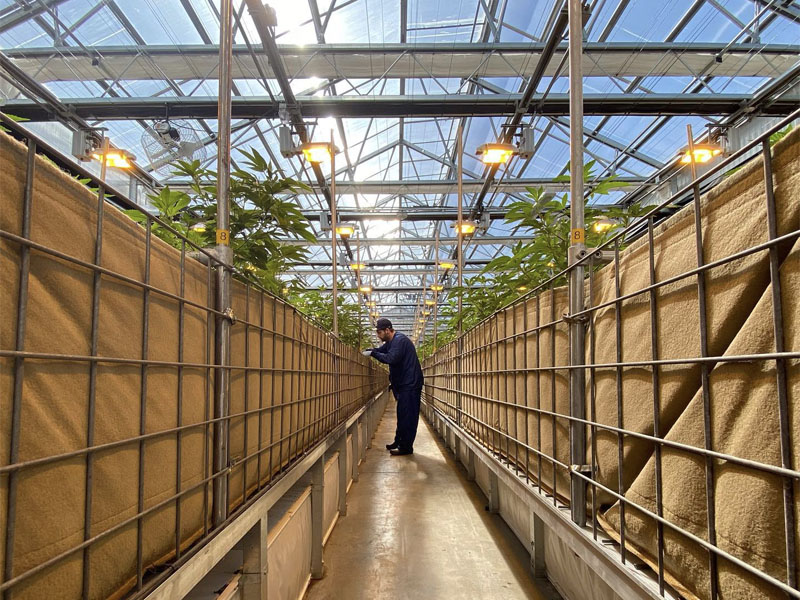 Nature and Technology Come to Life
Each flower house measures 3600 sqft' allowing for 2,750′ of canopy space per. The gable ceilings peak at 14′ and are made of light-transmitting polycarbonate glass to ensure maximum light penetration while remaining strong enough to handle environmental stress.
High-efficiency fans, used for air movement and odor control, are wall-mounted throughout the interior and exterior of the flower houses. The corridor between each flower house contains the mechanicals needed to support the growing environment individually. Each flower house is secured by a separate entrance, where individuals are required to wear the proper Plant Protection Equipment (PPE) in an effort to mitigate the risk of outside pathogens entering the unique growing areas.
Nature and Technology Come to Life
This controlled environment has rooms that require specific attention to temperature, humidity, and cleanliness. The veg, drying, trimming, and packaging rooms are all equpped with individual air-handling technologies, while being securley separated. Mechanical equipment such as the irrigation system, storage tanks, and water coolers are housed in non-production maintenance areas. Shipping and receiving are intentionally designated to create easy access for both functions.
The facility provides an attractive working environment for our team members, including but not limited to office space, break rooms, and locker rooms. The entire design promotes teamwork, tranquility, and pride.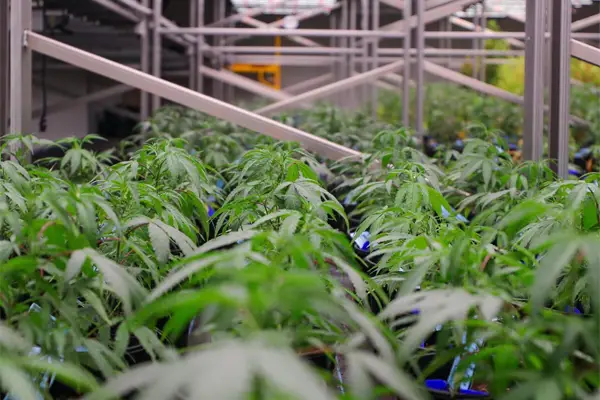 Sustainable Cannabis Cultivation Technology
Fully automated system that uses specific components to ensure the photoperiod remains reliably consistent year round.
E.C.O – Efficient Climate Optimization
Positive pressure under-bench system that moves air from the bottom to the top of the canopy, to optimize plant growth by helping eliminate microclimates.
Used to Maximiaize the grow area up to 40% by minimizing aisle space and Increassing efficiencies.
CMH lights will be used during low periods of natural light, creating a combined specturm enrironment in the flowerhouse. Addional LED lights are used in the veg and mother room.
Advanced systems are used to control relative humidity in specific areas and throughout the entire facility.
Decreases the risk of foreign pathogens in the grow area.
420 Armor by Benzaco Scientific
Automatic drip irrigation is used for R/O water in the grow areas
Metal insulated panels are used throughout the faciliy to maximize the energy code rating, create fire barriers, and ultimatley allow for better control of the environment.
State-of-the-art security systems are strategically located throughout the facility. Exceeding the required security measures recommended by the state of Michigan.